Pandemic Benefits & 21/22 Registration
Parents & Legal Guardians,
Below you will find information regarding two programs: P-EBT and OLR.
What is P-EBT?
First, the Pandemic-EBT program is run through the U.S. Department of Agriculture, not the school district, but it is connected to the federal Free and Reduced Lunch Program. The Department of Agriculture will be providing financial support to parents and legal guardians of Nye County School District students in the form of EBT cards, which can be used for groceries.
The Nye County School District does not determine the amount of the support (see flyer images below) and does not know exactly when the federal government will distribute the EBT cards. We have only heard that the Department of Agriculture wants to begin distribution this summer. Also, because NCSD is a CEP school district (Community Eligibility Provision, meaning all students have access to free lunch), many families are eligible for the benefits who do not normally receive EBT funds. Eligibility is determined by the Department of Agriculture and based on the number of free meals missed because students were required to learn virtually.
Since the Nye County School District doesn't govern this benefit, how does this connect to the NCSD?
The Department of Agriculture will get addresses for school district families from the Nevada Department of Education, which gets those addresses from Infinite Campus. For the P-EBT support to get to the correct families, student household addresses in Infinite Campus need to be correct.
Checking and correcting household addresses should be done through the Online Registration Process (OLR), which includes a method for updating and confirming information on current students.
Parents and guardians should review the registration information for all of their children at this time for the 21/22 school year as well as for the P-EBT program.
Click here for more information about Online Registration/Update.
Sincerely,
The Nye County School District
---
---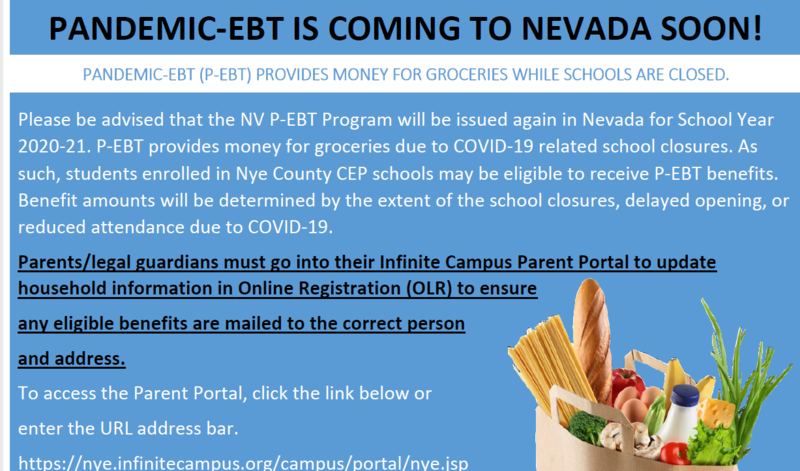 ---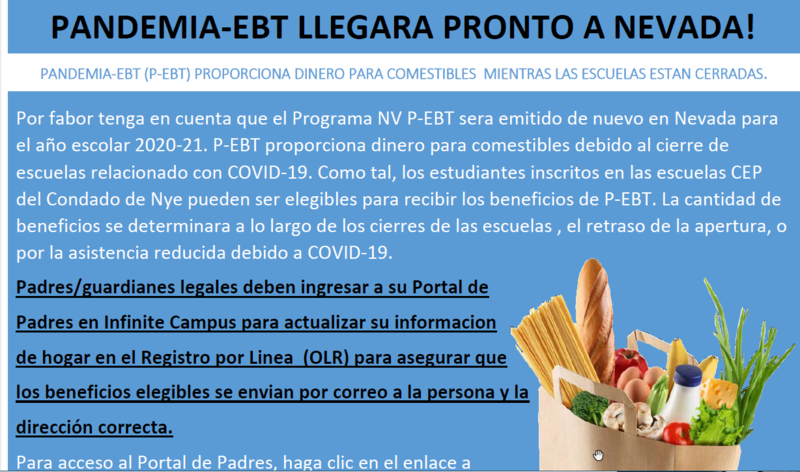 ---
OLR Information
Dear Parent or Legal Guardian;
Nye County School District (NCSD) has opened Online Registration (OLR) for the 2021-2022 school year for current students. OLR allows you to register your students for the upcoming school year and fill out the transportation application. Transportation will not be mailing out paper bus applications this year. You must log into your Parent Portal and fill out the Online Registration application.
It is extremely important to complete this OLR process as the P-EBT program will be issued again in Nevada for School Year 2020-21. P-EBT provides money for groceries due to COVID-19 related school closures. As such, students enrolled in Nye County CEP schools may be eligible to receive P-EBT benefits. Benefit amounts will be determined by the extent of the school closures, delayed opening, or reduced attendance due to COVID-19. P-EBT is expected to be distributed around the beginning of the 2021-2022 school year.
Once in the Portal, you will click on the "More" button in the menu on the left-hand side, click on "Online Registration", then "Click here to go to the Annual Update" (please refer to the attached document for screenshots of the steps 1-3).
If you have a new Pre-Kindergarten or Kindergarten student, once you have updated all your current students' information, you will click "Add New Student" on the Student Section of the application (step 4 on next page).
The link to the Parent Portal is: https://nye.infinitecampus.org/campus/portal/nye.jsp
If you do not have your Parent Portal account set up, please email your students' school secretary or registrar, with a copy of your driver's license to be provided your activation key. If you do not remember your username/password, please email your students' school secretary or registrar a copy of your drivers license to receive your username and temporary password.
If you need access to a computer to do OLR, please visit one of our schools.
Sincerely,
Nye County School District