The Lockdown/Stay-Put Status at Johnson Elementary, PVHS, Pathways, and Great Basin have been lifted per the NCSSO. (1:40PM, 5/17/23)

PVHS, Great Basin, and Pathways have been placed on Stay Put Alert as a precautionary measure by the NCSO due to a shooting in the neighborhood unrelated to the schools. Schools will provide more information as it comes available. A Stay Put Alert involves the following - All exterior doors are locked - Any outside activities are moved inside - No student or staff outside the building - No one can enter the building except response personnel - Classroom instruction continues with limited hallway traffic - Attendance is taken normally

NCSO and NCSD are aware of the social media posts threatening violence at schools tomorrow, May 10, 2023. A thorough investigation was conducted and it was determined that the threatening post originated outside of Nevada and was directed at a school in Clark County. NCSO has determined there is no credible threat to any NCSD schools. Out of an abundance of caution, patrols will be increased so there is a more visible NCSO presence around our schools.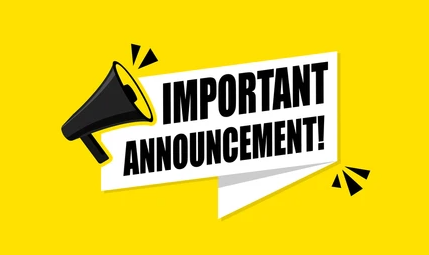 The Nye County Sheriffs Office received information regarding an unsubstantiated threat across multiple Nevada school districts today. Due to this, all schools are implementing "Stay-Put" procedures, limiting movement around and within campus. If students are required to be outside for transitioning between classes, they will be accompanied by an employee. Sheriff McGill also has deputies driving by, visiting, and monitoring campuses for safety through dismissal time. Schools will follow normal dismissal times and procedures.

January 9, 2023, 11:40 AM There is a power outage at PVHS. Due to the power outage, phones are not working. With parent/guardian permission, students will be dismissed if they have transportation. Parent(s)/guardian(s) may pick up students from the office if they choose. Buses will transport students at our normal dismissal time of 2:20PM for those students who remain at school. Valley Electric expects to have the power restored within an hour. Thank you.

Back to School Fair!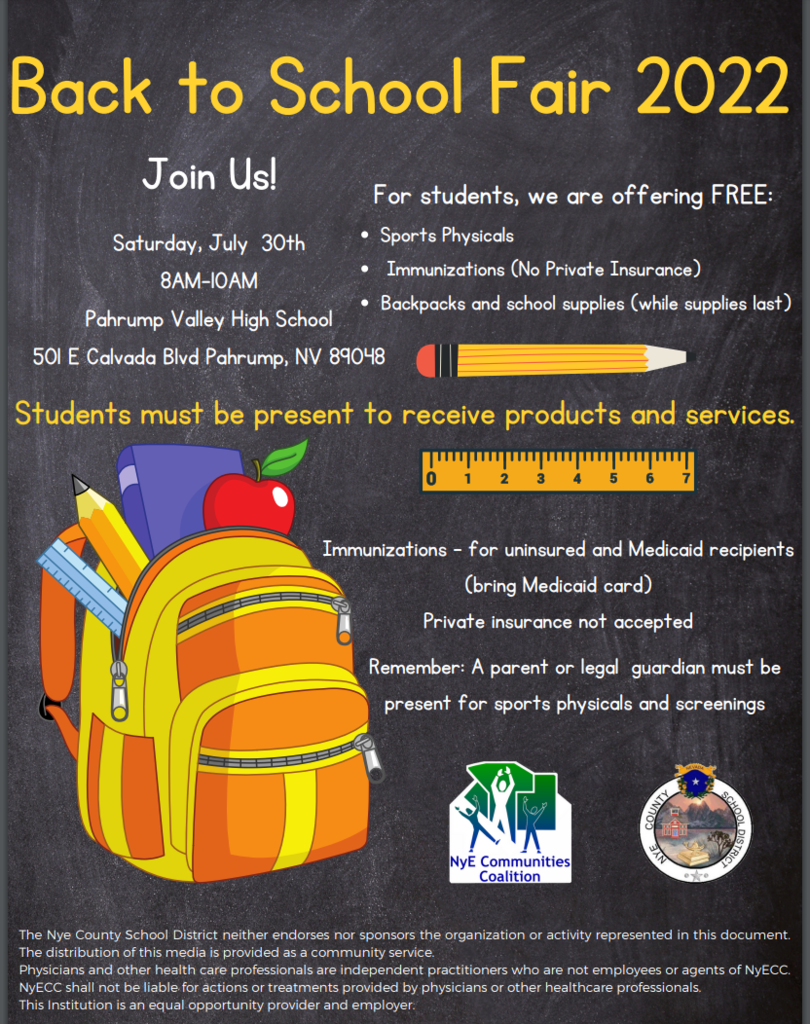 Book Drive - TODAY - 10am to 2pm, free hot dogs, drive thru at the Nye Communities Coalition

Book Drive - Saturday, May 7th, 10am to 2pm, free hot dogs, drive thru at the Nye Communities Coalition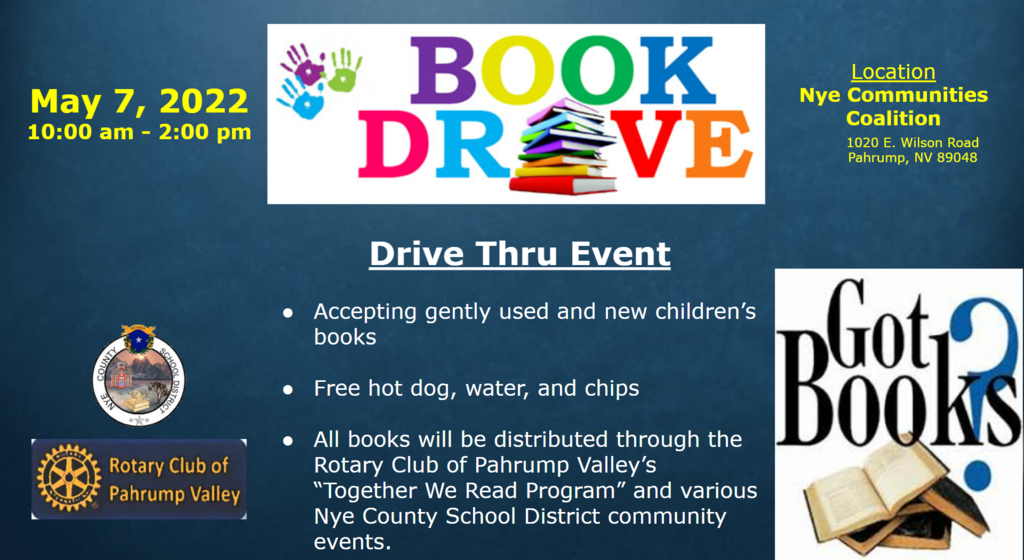 Book Drive - Saturday, May 7th, 10am to 2pm, NyE Communities Coalition. Free hot dogs.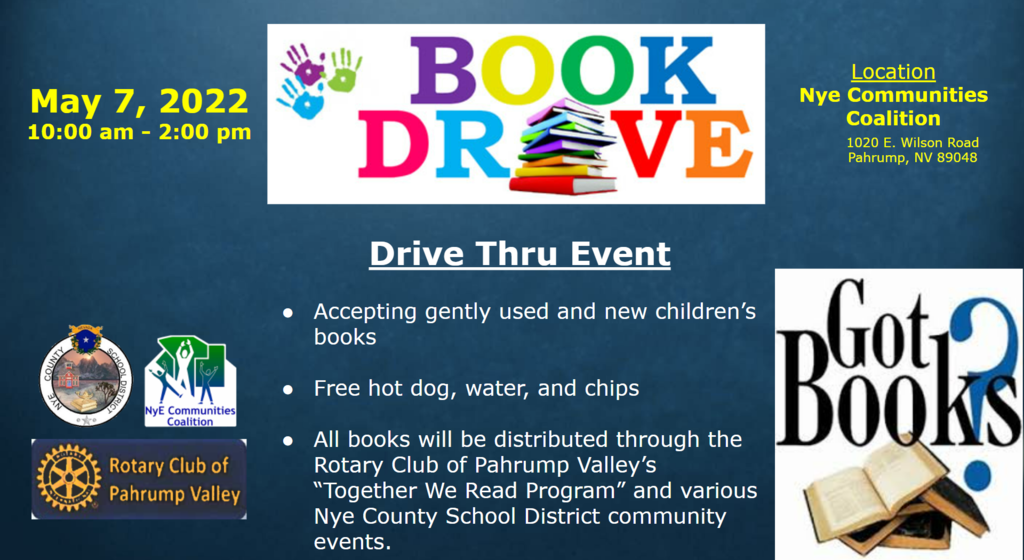 Nye County Residents and Business Leaders. The NCSD Grants Department is seeking community feedback regarding our Career Technical Education program for high school students. We have surveys for students and parents as well as business and industry partners. If you are a member of one of these groups, your feedback will be used for our new grant application and be greatly appreciated. Surveys -- NCSD Residents and Business & Industry Partners:
https://forms.gle/SC4ggFVBYNSY3xyh7
-- Parents of High School Students:
https://forms.gle/UW1DDnPJAm92Lkug9
-- High School Students:
https://forms.gle/BnQWjd62LVXdNhzv9

Parents of High School Students, The grants department really needs your feedback regarding our Career Technical Education (CTE) programs for a new grant application Please take the time to complete this survey:
https://forms.gle/foAZh25snWQtQy818


NCSD is considering three new publishers for Reading and Language Arts curriculum (K-12). The materials for all three are on display for public input at the Pahrump district office and each school site through January 7, 2022.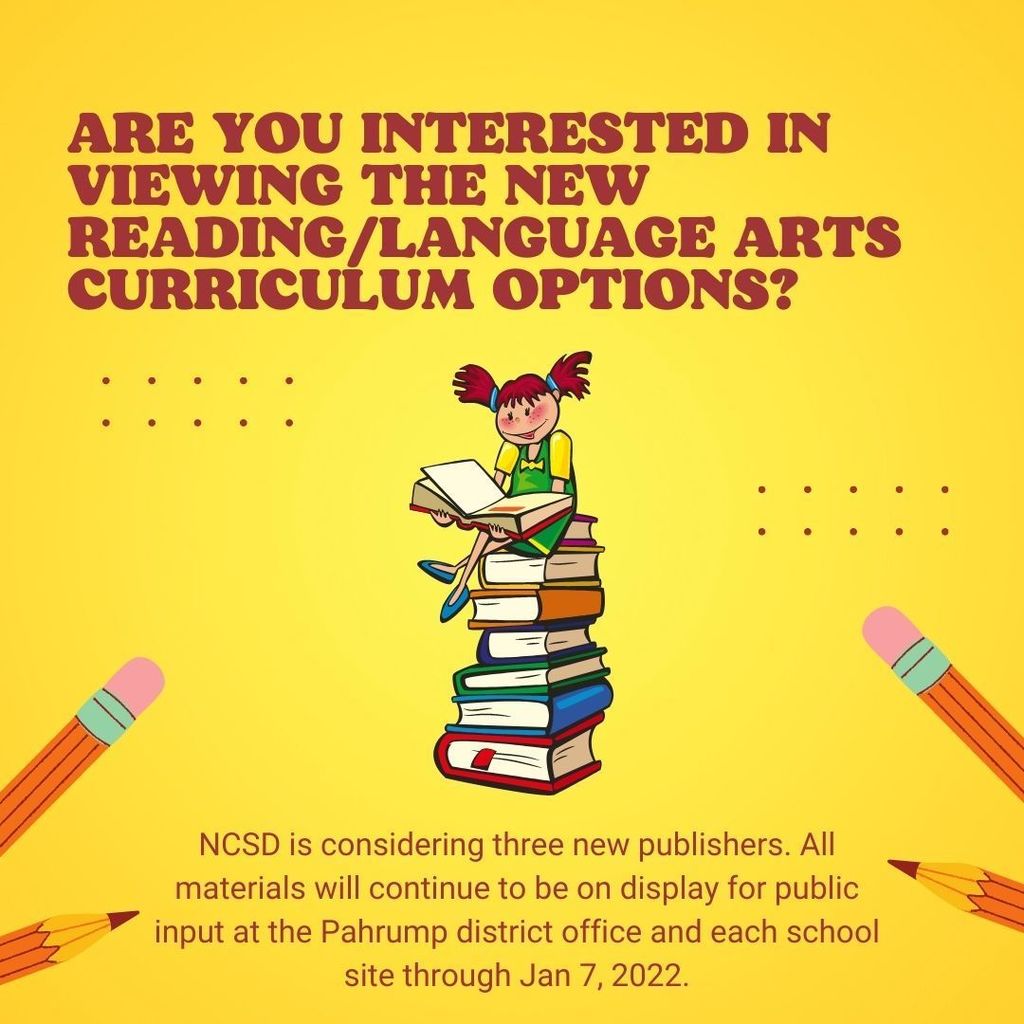 Pahrump Snow Day Update for Employees, 7:50 AM Custodians, Secretaries, and Administrators are to report to work. Teachers and support staff stay home.

Tues, January 26, 2021 - Pahrump Schools: A snow day has been called for students in Pahrump. Students in Pahrump will not have school today. At this time, school will proceed normally for students in other communities. Employees in Pahrump are asked to report to work if the roads from their home look clear. Communicate with supervisors if you cannot report.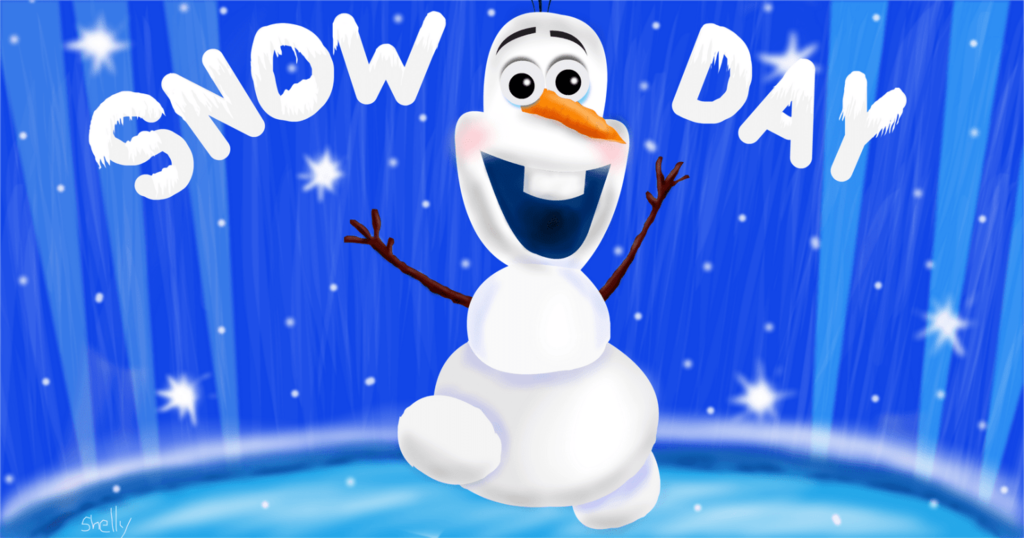 Drive-thru Back to School Fair August 1, 2020, 8-10AM See this flyer for details:
https://5il.co/ipl1

Parent Engagement Survey:
https://bit.ly/2AF7u7N
Parents & Guardians, This is a six question yes/no survey that takes about 30 seconds to complete. We sent this out previously, but only received 80 responses. Please help us to collect this information for our Family Engagement team. Thank you,
https://bit.ly/2AF7u7N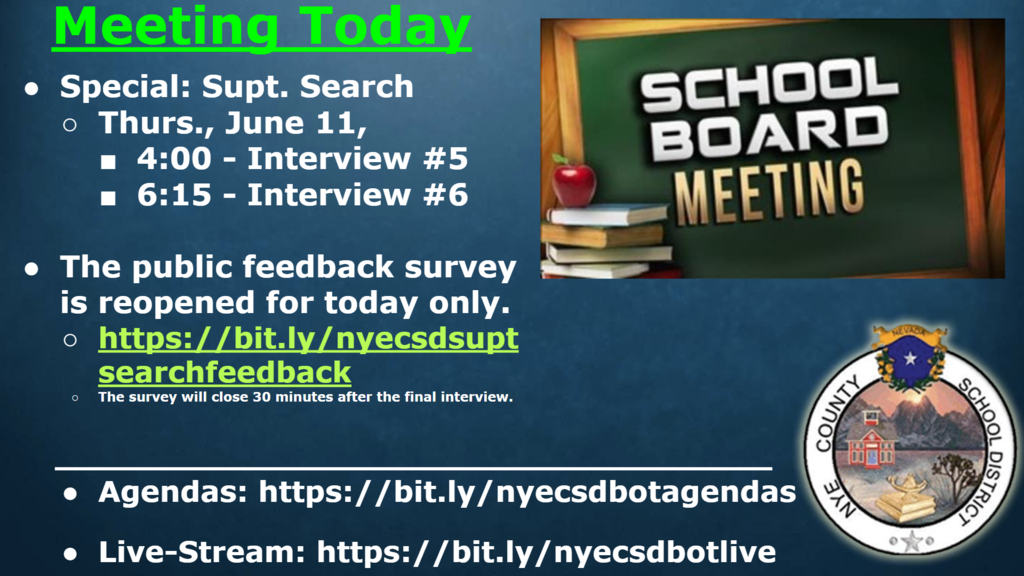 Parents, Guardians, and Community Members, We know you have been asked to fill out several surveys recently, but we would appreciate your attention to one more. This survey is meant to provide the grants department with guidance and data while writing for 20/21 grants, which will be critical for our operations in what is likely to be a challenging budget year. The survey contains 20 topics and asks you to rate each topic's importance to you and your satisfaction with district implementation. A blank response will be counted as not-applicable for you, so you are welcome to leave items blank. Please click here to take the survey: 
https://bit.ly/NyeGrantSurvey2020


Parent Engagement Survey:
https://bit.ly/2AF7u7N
Parents & Guardians, This is the same survey that we sent out at the beginning of the year on paper through the schools. Obviously, it was not possible to do the survey the same way at the end of the year. Our grants require that we issue this survey twice per year to get comparative data. Please take a few minutes to fill out the six questions. Thank you, -NCSD Grants & Family Engagement Dept.
https://bit.ly/2AF7u7N